BRYAN WILSON – 11.01.2023
A dream come true.
Sam Jardine saw his childhood fantasy realized when he stepped onto the ice at the Scotiabank Saddledome for his first game with the Wranglers last weekend.
"Feels good," he said of the debut. "I grew up watching the Flames my whole life, so I thought it was very cool to play in the Saddledome for the first time.
"Just getting into that first game, experiencing some game action was good, it's been a while. It was definitely fast in the first period, but I settled in, and was happy to get two wins over the weekend."
Not only did he lace up for his first Wranglers game against the Colorado Eagles on Oct. 28, but the blueliner also picked up his first point of the season, registering an assist in the game.
The moment was made even more special for the pride of Lacombe, who had the chance to play in front of his family and friends for the first time in years.
"I had a lot of people watching," he explained. "It's the first time I was able to play in front of my niece, and the first time in seven or eight years that I could play in front of my brother and sister, so it was awesome.
"I have an amazing support system with my family, and I've always said that I would be a much better player if I ever got to play closer to them, so I guess now I've got to put my money where my mouth is," he added, with a smile.
Jardine was drafted by the Chicago Blackhawks in 2011 (169th overall) and has spent time in the ECHL, AHL and in Europe as well.
He spent last season with the Cardiff Devils (EIHL), registering 12 points (4g, 8a) in 33 games.
Jardine's lengthy experience in professional hockey has allowed him to settle in seamlessly to his new role with the Wranglers this season.
"I feel good. I'm a little older now, so I've been in this situation with multiple teams at multiple levels," he explained. "I think I know what it takes to be a good teammate in practice, supporting the guys that are in the lineup, but also keeping yourself ready when your name is called."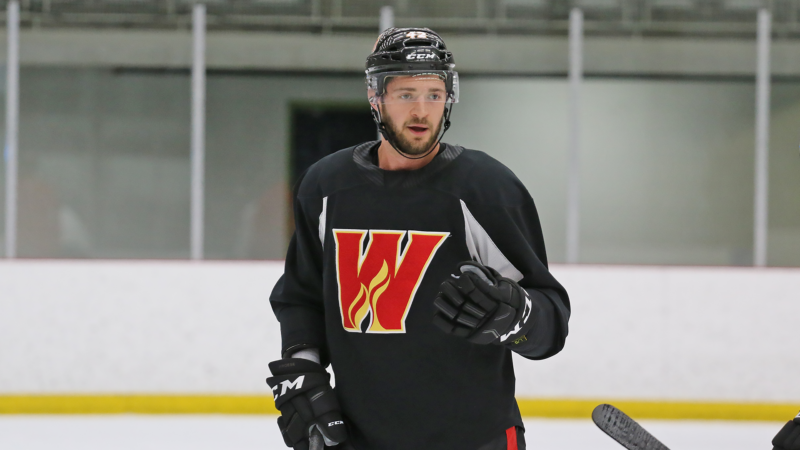 The Wranglers (5-0-1) are unbeaten in regulation through six games to start the season, despite dealing with injuries and NHL call-ups on the blueline, specifically.
For his efforts, Jardine garnered praise from Wranglers head coach Trent Cull after Sunday's win, saying he's been 'happy with the performance' from Jardine and the rest of the defence, too.
"When you're putting wins together the way we are right now, every day is fun coming to the rink," explained Jardine. "I think Trent is doing a great job keeping us honest, knowing we can still play a lot better, but keeping the focus and intensity really high in practices.
"It's a good vibe around the room right now."