Flames first-rounder Sam Honzek gets a few tips from the GOAT, Jarome Iginla
RYAN DITTRICK @ryandittrick / CalgaryFlames.com
The weapon of choice is a black and olive-green Bauer AG5NT.
Flex 82.
Standard 'P28' pattern with a toe curve and a moderately open face for quick elevation.
Sam Honzek anticipates a few tweaks over the next little while, like adding some thickness to the blade to help with winning board battles, and to make it easier to gobble up loose pucks in those high-traffic areas.
The thing is, even a $400 arrow put in the wrong hands won't make much of a difference.
You still need a talented archer.
And while it's far from a finished product, Honzek has a gift that almost every hockey player grows up dreaming about.
"It's not something I really (prioritized) when I was younger," the Flames first-rounder said of his filthy wrister. "It wasn't until a couple of years ago when I started training with men that I started to build more upper-body strength – especially in my arms. That was a key point for me.
"I started to feel it on the ice. My shot was getting better and suddenly, I was like, 'Oh my God. If I keep working on this, I can really make a difference and use it every time.'"
On Saturday, as the Flames wrapped up Development Camp with a half-ice, 3-on-3 tournament, Honzek made an early impression on the legion of fans packing the seats at WinSport, more than 90 minutes before puck drop.
The 18-year-old walked in from the blueline and leaned into a wrister that caromed loudly off the crossbar, before rocketing into the ceiling and smashing a light fixture high above the ice. As bits of plastic and other debris rained down in the corner, you could hear the collective 'whoa!' from the crowd, before laughter took hold among Honzek's amused teammates.
If that's where he's at now – imagine what the shot could be in the future with a little coaching?
Say, from the best, ever, to suit up in Flames colours.
"He was talking to me about my shot," Honzek smiled of his postgame chat with Flames legend-turned Special Advisor to the GM, Jarome Iginla. "He was saying that in the NHL, there's going to be less time and space, so I need a quicker release. But I can also work on other options, too, like dropping my shoulder and faking the shot, going around D, and maybe that creates an empty-net opportunity for me.
"I feel like if I really put the work in, trust him, and listen to what he says, I can really improve that part of my game."
"I have a good picture on what I need to work on."

Sam Honzek reflects on his camp experience and talks about interacting with Iggy. pic.twitter.com/EyIuQ2n2gx

— Calgary Flames (@NHLFlames) July 8, 2023
Fortunately, for Honzek, he's already got a leg-up on most, considering his elite baseline.
After all, velocity is not easily taught.
The lone criticism is that he can take a long time to load up, pulling the puck behind his left foot and 'sweeping' through the pocket, rather than keeping that motion in tight and exploding off with no reach-back.
That was a point of emphasis for all the attendees at Development Camp, with Friday's agenda focusing – almost entirely – on shooting.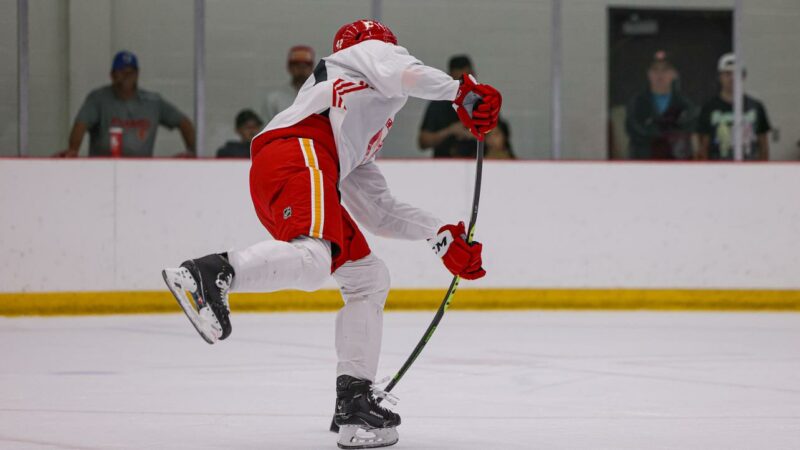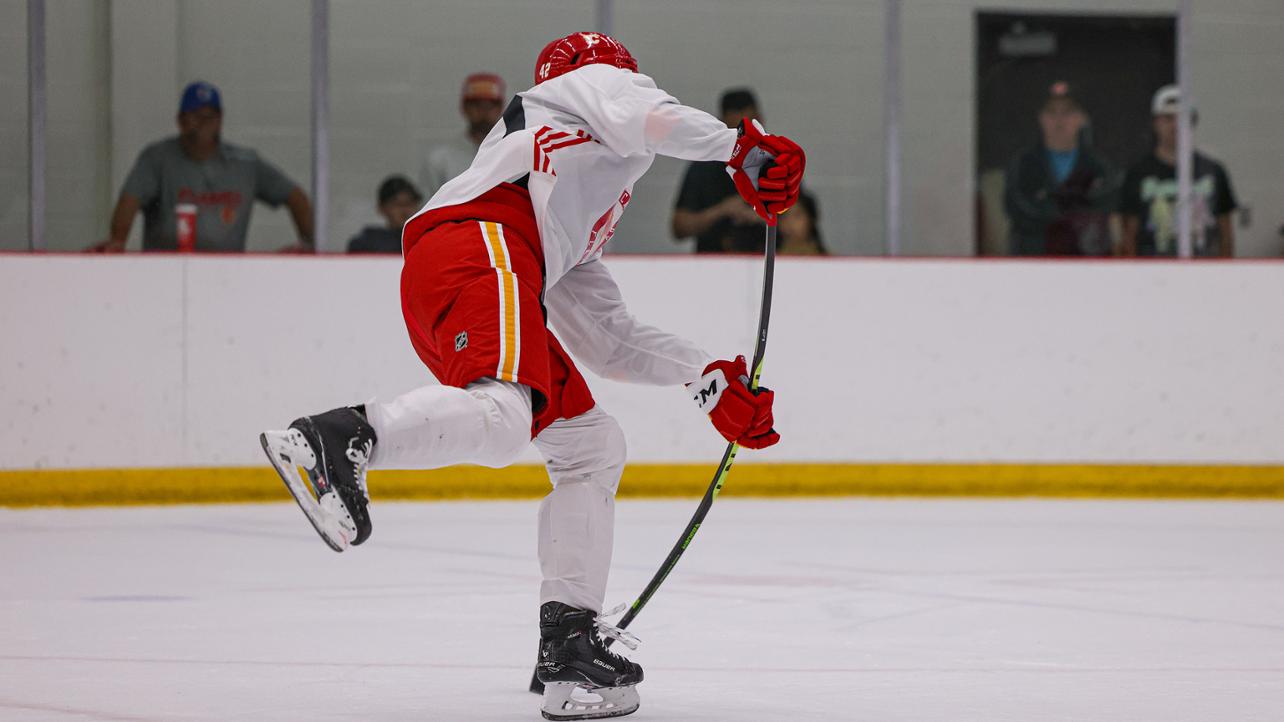 But Honzek, in particular, was taking those teachings to heart.
The towering left-winger was not only working on his release this week, but other pro skills that could make all the difference one day. Honzek was a daily participant in Danielle Fujita's power-skating clinics, which ran for 30 minutes prior to the main sweat sessions, and focused primarily on balance and edge work.
It's a lot to squeeze in, but after three days in Calgary, Honzek is leaving with a "good picture" of what the path to becoming a Flame looks like.
"I've always looked up to players who can skate well, and in order to get to that level, you have to be a good skater," he said. "For me, it starts here with Danielle. I was really focusing on what she was telling us, so I was trying to do everything at 100% and (soak) in all the information. She's so detailed. If I keep working with her, it's only going to get better.
"Honestly, this is the part I love.
"It was a really busy month with the Draft, Combine and flying here," Honzek added. "It was really hard. First taste of the NHL pace. (But) that's going to prepare us.
"We competed really well."