BRYAN WILSON – 02.16.2023
With just 24 games remaining on the schedule, the Wranglers sit atop the AHL standings with 70 points and a record of (34-12-2), and a big reason for that has been their goaltending this season.
Calgary's terrific tandem is led by reigning AHL Goaltender of the Year, Dustin Wolf – who has continued to build off last year's success – and Oscar Dansk, who brings an air of experience and leadership to the position, which has helped push his goaltending partner to a higher level.
Dustin Wolf (28-7-1)
WINS – 28 (1st in AHL)
LOSSES – 7
GAA – 2.17
SV% – 0.929
SO – 4  (1st in AHL)
Wolf has been outstanding between the pipes.
He's been extremely consistent through the first half of the season and his unwavering approach to his preparation, at practice or in games, has allowed him to carry the bulk of the workload for the Wranglers to this point.
Wolf is an incredibly focused and intensely competitive netminder, and he's shown an ability to make timely saves at big moments to steal games, when necessary, for Calgary through 37 appearances this season.  The 21-year-old from Tustin, Calif., leads all AHL goalies in wins (28), minutes played (2155:11) and shutouts (4), while sitting second overall in goals-against (2.17) and save-percentage (0.929).
Wranglers goaltending coach, Mackenzie Skapski, has been impressed with what he's seen so far from Wolf.
"Just a really talented goaltender, obviously," Skapski explained. "There's been a few things that we've stuck to since the beginning of the year that he's had to learn as well, and he's been getting results. He's just a very controlled goaltender who manages the play and presents a really good confidence about him in the net. He's still developing as a goaltender, too."
Wolf was recently named the All-Star MVP at the 2023 AHL All-Star Classic in Laval earlier this month.
Skapski works closely with both Wolf and Dansk on a daily basis to fine tune specific elements of their game, especially in practice, where the three can often be seen discussing different aspects of their development.
"The relationship we have, Dansk with myself, and with Wolfie, and the three of us is important to us progressing together," he said.
Regardless of who's between the pipes next, the focus in practice stays fixed on the finer details of the position rather than on who gets the green light that night. It's simpler that way, says Skapski.
"We like to go over three things per goaltender, and those three things are different with Oscar and Dustin, but it creates measurables for them in practice," he said. "So, whether you're in practice or in a game, we're evaluating film based on criteria that we've established together. So, it's pretty clear that way and we have good intentions, we have a good focus and distract ourselves from the actual 'who's playing' and rather just focus on the process."
Oscar Dansk (5-5-1)
WINS – 5
LOSSES – 5
GAA – 3.01
SV% – 0.895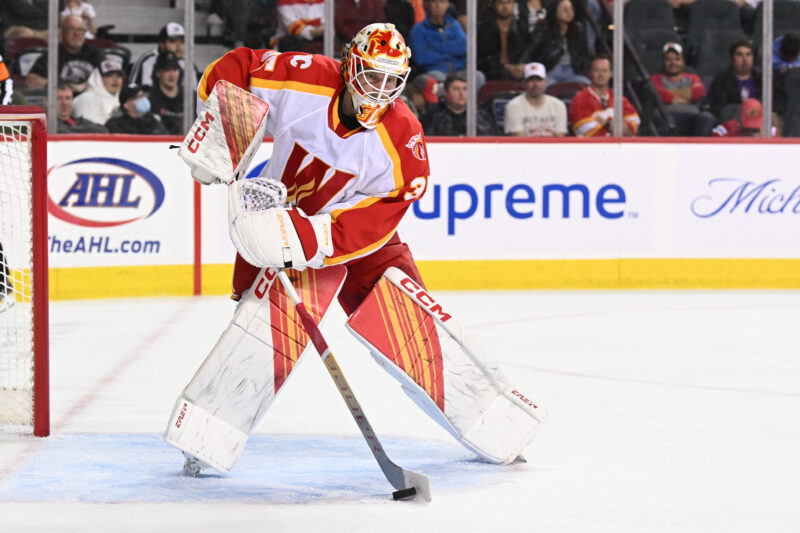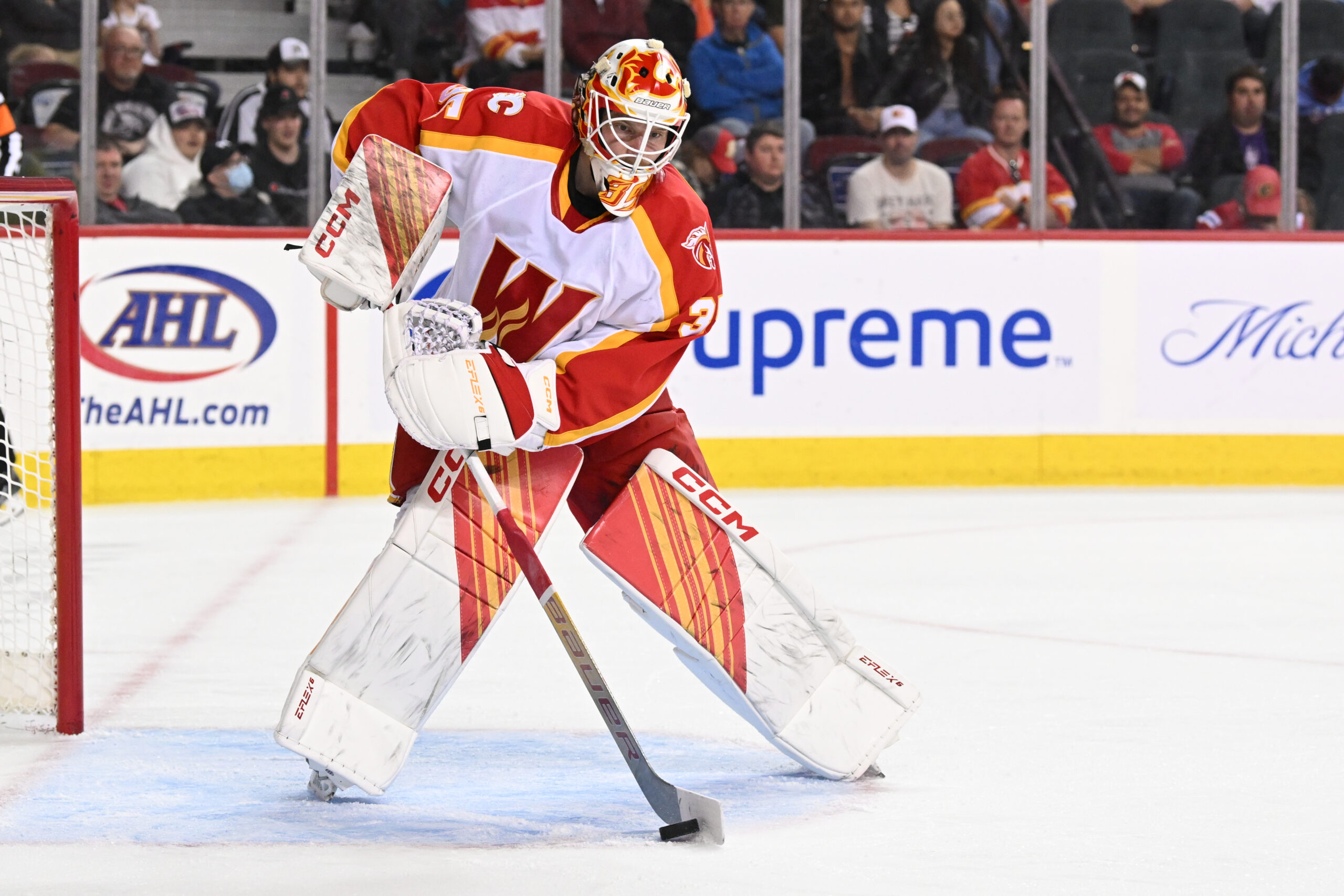 Dansk has been trending upwards in his recent starts and continues to progress positively into the second half of the campaign.
In his last seven decisions, the Swedish product has picked up five wins (5-2-0) and has made a series of highlight reel, game-saving stops in that span. Dansk has been an unsung hero in many appearances, making timely saves to keep the Wranglers in games and ultimately give them the chance to win.
Skapski is pleased with the strides Dansk has been making thus far.
"His game is going in an upward direction for sure," Skapski explained. "If you want to look at the wins alone, his wins are starting to come along with his game. He's got a good process in practice, he's developing as a goaltender and, even at 28-years old, he's getting better."
Dansk brings NHL experience, coupled with multiple seasons of AHL action, to the fold and has shown poise in games and around his teammates all season long. Both he and Skapski have been learning from each other throughout the year and the hard work has been paying off.
"Obviously he's a pretty established goaltender in pro hockey," he said. "He comes in with his ways and then I come in with my ways and through our relationship we've developed a process. It's a credit to him, he's had a very good growth mindset and I think if you asked him, he would really like where his game is right now. He just continues to stick with the process and develop at that process and get better."
NOTEABLE:
(G) Daniil Chechelev, who was recently recalled from Rapid City (ECHL), made 29 saves to pick up his first AHL win with the Wranglers on February 11, 2023 against the San Jose Barracuda.