Here's a rundown on all the Calgary Flames' 2023 NHL Entry Draft selections in Nashville.
DAY 1 (ROUND 1)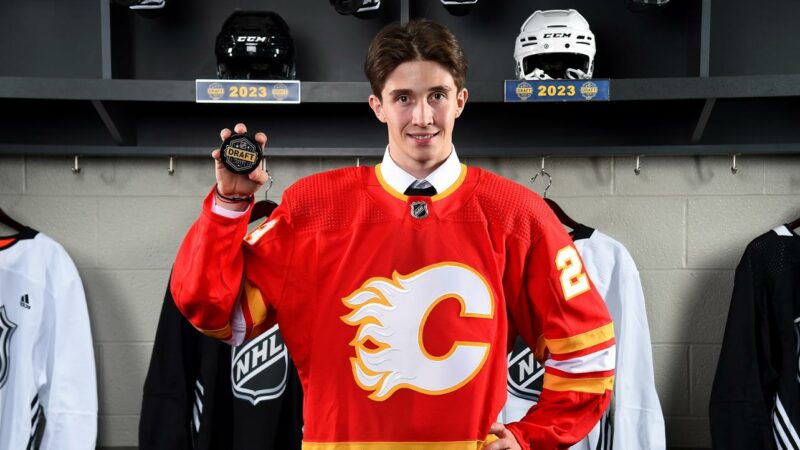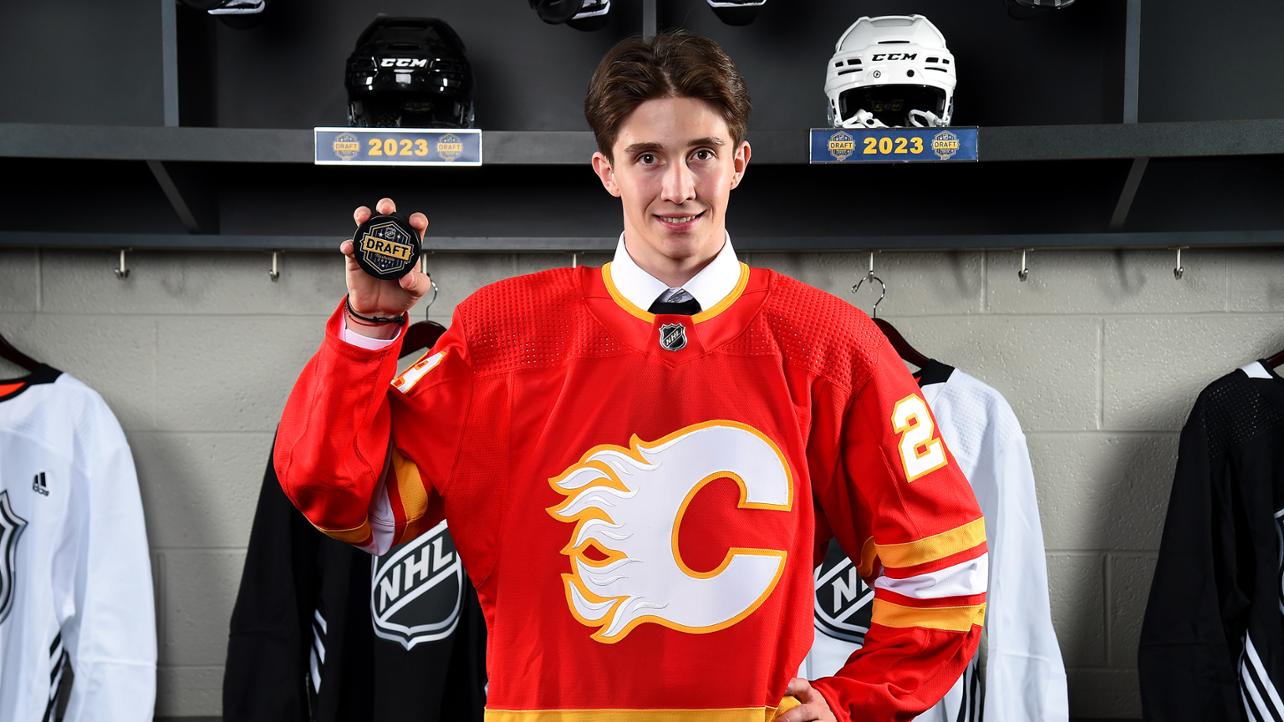 1ST ROUND, 16TH OVERALL – SAMUEL HONZEK (VANCOUVER, WHL)
No. 9 Ranked North American Skater
Position: Left Wing
Shoots: Left
Height: 6′ 3.25″
Weight: 195 lbs.
Birthplace: Trencin, Slovakia
PLAYER PROFILE
* Sits third in scoring among WHL rookies in 2022-23 with 23-33-56 (43 GP), despite missing 25 games due to injury. Honzek was named a finalist for the Jim Piggott Memorial Trophy for WHL Rookie of the Year.
* Led the WHL Vancouver Giants in points per game, operating at a 1.30 pace.
* Played for HK Dukla Trencin in Slovakia's top men's league in 2021-22, concluding the season with 10 goals and 14 points.
* Won a silver medal with Slovakia at the 2022 Hlinka Gretzky Cup and skated for his country at the 2022 and 2023 World Junior Championship.
SCOUTING REPORT (VIA NHL CENTRAL SCOUTING):
A big power forward who has a deadly shot from anywhere in the attacking zone. He has a great one-timer. Very effective at getting open and setting himself up to shoot. A pure goal scorer at every level he has played. Excellent puck skills and hockey sense. Protects the puck effectively and can be very elusive in traffic.
CRAIG CONROY'S TAKE:
"A lot of nights, he did a lot of the offence by himself. … When we go through all the testing for the Combine and stuff, very good athlete. All the stuff that came back, very positive. The analytics were positive. The eye test was positive. Everything that we go through and test, he kind of checked all the boxes for us. So, it was very exciting for us to get him at 16.
"The one thing when you talk to everybody behind the scenes, he's just a good person and a good teammate. He'll probably be the captain next year in Vancouver, which says a lot about the kind of player he is. To come over here and do what he's done, says a lot.
"I've seen most on his wing. If he could play centre, that would be a bonus. But I see him as a left-winger."
DAY 2 (ROUNDS 2-7)
2ND ROUND, 48TH OVERALL – ETIENNE MORIN (MONCTON, QMJHL)
No. 19 Ranked North American Skater
Position: Defenseman
Shoots: Left
Height: 6′ 0″
Weight: 180 lbs
Birthplace: Valleyfield, Que.
PLAYER PROFILE
* Finished the 2022-23 season with the most goals among all QMJHL defensemen (21) and finished third in points after producing at a 1.07 points-per-game pace (21-51-72 in 67 GP). He more than doubled his point total from his rookie season (+30 points), after recording 8-25-33 (64 GP) in 2021-22.
* Concluded the 2023 playoffs tied atop scoring by defensemen with 2-15-17 (12 GP) and finished with the highest points-per-game average (1.42).
* Was a part of Team Canada's bronze-medal entry in the 2023 Under-18 World Junior Championship.
* Grew up wanting to emulate his childhood idol, Nicklas Lidstrom, and wears no. 5 because of him.
SCOUTING REPORT (VIA NHL CENTRAL SCOUTING):
Left-handed defenseman with excellent puck skill and offensive upside. Poise with the puck in all three zones. Handles the puck with confidence and will find his outlets all over the ice. Good passing skill – snaps them with authority and precision. Quality skater with agility and edge work. Possesses good puck carrying skill but would consider him more a puck mover who excels at supporting rush plays on the second wave. Excellent quarterback on the power play. High level of hockey sense, vision and feel for the offensive game. His defensive game is progressing well. Can play with some bite and push back – will finish some sneaky hard hits.
No. 40 Ranked North American Skater
Position: Left Wing
Shoots: Left
Height: 6′ 2″
Weight: 192 lbs.
Birthplace: Kazan, Russia
PLAYER PROFILE
* Posted totals of 45-45-90 in 50 games in the 2022-23 season with the BCHL's Penticton Vees – ranking in the league's top five in goals (t-1st), points (3rd) and assists (5th).
* Won back-to-back BCHL championships with Penticton Vees in 2021-22 and 2022-23.
* Finished the 2022-23 season named to the BCHL's All-Rookie Team and was selected as a First Team All-Star. His 45 goals were tied for the League lead.
SCOUTING REPORT (VIA NHL CENTRAL SCOUTING):
Good combination of size and skill that can play a power forward type of game. Top-six winger that is very effective on the power play. Excellent shot that is heavy with a quick release. Shows a good touch and short game in all zones. A high-end playmaker to go with his scoring ability. Powerful skater with good edges and agility. Good work ethic and compete level. Hunts the puck well on the forecheck. Creates chances and turnovers by being dogged on the puck.
4TH ROUND, 112TH OVERALL – JADEN LIPINSKI (VANCOUVER, WHL)
No. 49 Ranked North American Skater
Position: Centre
Shoots: Right
Height: 6′ 4″
Weight: 210 lbs.
Birthplace: Scottsdale, Ariz.
6TH ROUND, 176TH OVERALL – YEGOR YEGOROV (DYNAMO, MOSCOW JR.)
Position: Goaltender
Birthplace: Moscow, Russia
7TH ROUND, 208TH OVERALL – AXEL HURTIG (ROGLE, SWE-JR.)
No. 100 Ranked North American Skater
Position: Defenceman
Shoots: Left
Height: 6′ 4″
Weight: 202 lbs.
Birthplace: Hogas, Sweden